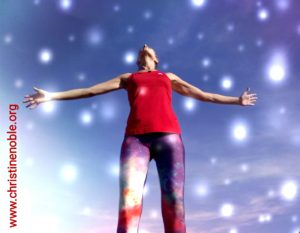 I have NEVER been so happy. I look forward to each day with a true sense of purpose. I can't even begin to describe it. I could never thank her enough, Christine is my hero and I am forever grateful. I can breathe again. ~Charlie S.

I was at a point in my life where I felt "lost" in life. I wasn't sure which direction to take. I was confused which job to take because of my skillset and I was being picky. I wanted a Monday through Friday  8-5 job no holidays, so I can spend more time with my kids. I struggled looking for work for almost a year, I had used up all my savings and started getting into debt. When I went to go see Christine, I received more clarity. It was an amazing feeling, it was as if the blocked walls fell and the doors opened, and I was able to receive again. Ten days later I got a job just like I had asked for, a Monday through Friday 8-5 job weekends and holidays off in an office field. I LOVE CHRISTINE!!! SHE IS THE BEST AT WHAT SHE DOES!! ~Belena G.

Christine is amazingly talented, intuitive, empathetic and effective. Every time I think about our session it still effects me. I will never forget that day and the way she proved to me that it's okay to have faith, and there is no doubt in my mind. She is a beautiful soul. Thank you, Christine, from the bottom of my heart. ~Mark S.

I wouldn't have believed what Christine could do until I experienced it for myself. I still don't know how to explain how she does what she does but it forever changed my life for the better and I am very grateful.~Denise R.

Working with Christine has taught me a new way of vibrating and tapping into my own internal healing capabilities. Being in her presence gets me recharged and excited about life.  ~Chris P.

The moment you meet Christine you can feel the comforting warmth of her energy. She truly cares about her clients' well being and invests the time to understand how she can provide the best care possible. I am so grateful that she has shared her gifts with me! ~Catie F.

Christine has been a huge help in guiding me through my darkness and now that I am standing tall on my own feet I can feel things I couldn't before.  I may never be able to repay the debt in the way that she helped me.  She was my beacon of light when I needed it.~Bryan P.

Now I have less anger, more love for sure; patience. ~Charles A.

Christine is a very gifted intuitive healer. Just being around her makes you feel better. What a gift it has been to experience her healing touch. I recommend that you let Christine share her gifts with you. I look forward to our next session! ~Lana M.